Information for September
Information for September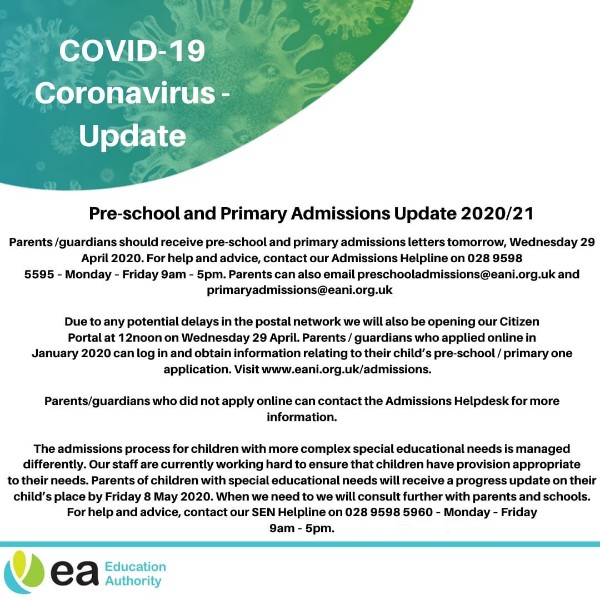 The Education Authority has made arrangements to issue notification of placement letters for P1 and Pre-School Stage 1 to parents for receipt on 29 April 2020.

The letter will outline the application outcome, provide information on the appeals process and link to the EA website for more information.
As it is possible that due to Covid-19 that some post may take longer to deliver than usual, the Citizen Portal will be opened on Wednesday 29 April and parents / guardians who had applied online can log in to view their child's pre-school (target age Stage 1) and primary 1 placements.
Guidance on how to log in and access placement offers will be accessible on the EA website.
(MAY NOT BE AVAILABLE UNTIL 29th April)
LINK TO EA WEBSITE
https://www.eani.org.uk/parents/admissions
WHAT DO I DO WHEN I GET NOTIFICATION?
Acceptance or non-acceptance of an offer of a place can be emailed to the school - conventofmercyns@outlook.com - I (state name) the parent of (state name) wish to accept the place offered.
YOU MUST CONFIRM TO THE ABOVE EMAIL ADDRESS THAT YOU ACCEPT THE PLACE & PROVIDE REQUESTED PROOFS OF ADDRESS BY 12 NOON ON WEDNESDAY 13TH MAY
As our places are offered on the condition of residing within the parish of Downpatrick parent/guardian will be asked to submit verifying information in line with the published admissions criteria. YOU WILL ONLY HAVE TO DO THIS IF YOU RECEIVE A TEXT MESSAGE FROM US AFTER 29TH APRIL 2020.
Verification Documents
'Age – any ONE of the following original documents
 Child's Birth Certificate
 Child's adoption certificate
 Medical card – in the process of adoption or have been awarded the care of the child. (Once they receive the original Birth Certificate they MUST present it to the school)'

'Address – any TWO originals of the following with a date within the last three months when provided as evidence. ONLY ONE OF EACH TYPE
 Bank building society statement
 Utility bill (ie electricity, gas, home telephone number, credit cards)
 Letter awarding Child Benefit or relating to this benefit
 Medical letter regarding the child
 Addressed payslip
 Mortgage statement
 Rental agreement
 Land and Property Service rate demands
TOP TIPS WHEN COMPLETING YOUR APPLICATION FORM
You will need an email address to initially register & then a link will be sent to this address.
When applying select TARGET NURSERY not Reception
Type in your postcode & a list of local nurseries and playgroups will be displayed.
A list of possible verification documents can be found in the schools Admissions Criteria at the bottom of this page - we will only accept original copies.
Please ensure all documents have a date within the last three months. Please note that verification documents must be in the name of the parent/s or guardian listed on the application form (currently only one name can go on the application - therefore if living in the same house - please add both parents names to the Additional Application Information section).
A medical letter regarding the child MUST state that childs name.
In the Additional Application Information
State both parents names therefore we will be able to accept proof of address named in both parents names. Otherwise it can only be in the name of the parent listed on the application form.
SEN - if you believe your child has additional needs yet has not been referred or statemented - please give details in this section as we can then guide you to to the appropriate referral services.
IMPORTANT DATES
https://www.eani.org.uk/parents/admissions/important-dates-for-your-diary
https://www.eani.org.uk/admissions-guides/pre-school-admissions-guide
https://www.eani.org.uk/sites/default/files/2019-12/Convent%20of%20Mercy%20Nursery%20School%20Downpatrick%202020-2021.pdf